MyTRIZ Update ... The inaugural MyTRIZ Competition launches
MyTRIZ organized its second Annual General Meeting on 16thMarch 2012. A total of 30 members attended the AGM. The MyTRIZ Committee provided the members a broad overview of the association's performance in 2011, its current directions, financial health and confirmed the strategic plan for 2012.
Up to the end of year 2011, MyTRIZ registered 301 members, conducted 15 TRIZ classes and grew the TRIZ community to 723 trained practitioners. Last year we saw the methodology spreading to industry and schools and close to 200 participants attended the MyTRIZ Workshop by Dr. Sergei Ikovenko.

Most important, 2011 was a positive experience for MyTRIZ and we wished to thank the sponsors namely Multimedia Development Corporation, Intel and various universities for the support. If you would like more AGM information, you can download the presentations from MyTRIZ website.
With the success achieved in 2011 and the Association firmly committed to its goals, we continue to share the TRIZ knowledge with more academicians. 8 TRIZ classes were organized at USIM, Cybernectic International College of Technology, Universiti Malaysia Sabah, Universiti Putra Malaysia, Universiti Tun Hussien Onn Malaysia, Kolej Damansara Utama and Universiti Teknologi Mara.

Our mission to grow sizeable early adopters was tracking well and will cross the critical milestone of a thousand early adopters this year. It is now timely to call upon the community to generate huge awareness and promote the methodology to the industry.

We are happy to announce the inaugural MyTRIZ Competition 2012. This is the first ever TRIZ competition in Malaysia. The competition is open to all local and international students and lecturers enrolled in the Malaysia Institution of Higher Learning. Over RM 80,000 prize money to be won!
Apart from the huge prize money, the main purpose of the competition is to encourage the application of systematic innovation TRIZ methodology, cultivate the spirit of innovation and generate awareness of TRIZ systematic innovation.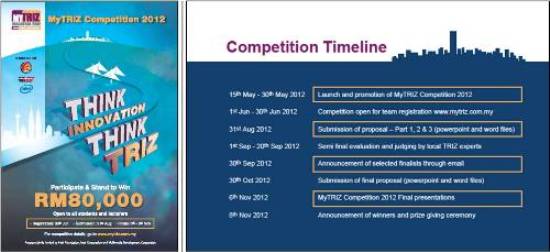 The competition theme is THINK INNOVATION, THINK TRIZ and the duration is from competition launch date of 15thMay 2012 to competition finals on 6thNovember 2012. For full details of the competition format, regulations and instructions, please refer to attached MyTRIZ Competition 2012 document or download the document from the MyTRIZ website www.mytriz.com.my.
Lastly, please mark your calendar for the annual end of the year TRIZ community gathering. Another opportunity for those who have missed Dr Sergei Ikovenko sharing last year, he will be back this year from 6-9thNovember 2012 in Penang for the MyTRIZ Conference and Workshop 2012. Joining him will be TRIZ experts from General Electric, Samsung and Education for New Era (TRIZ for children creativity and innovation).
Happy learning and competing!
Dr. TS Yeoh
MyTRIZ President