MyTRIZ Update ... MyTRIZ Conference 2012 ready for registration
We have the great pleasure to invite you to participate in the MyTRIZ Conference and Workshops 2012 "Think INNOVATION Think TRIZ". The events will take place on 6-9th November 2012 in Penang, Malaysia. 6 invited international TRIZ gurus will discuss the latest development of TRIZ in industry and education throughout the world.
You will have the opportunity to join 2 workshops pre- and post-conference. The first workshop focuses on patent circumnavigation facilitated by Dr. Sergei Ikovenko, International TRIZ President. The second workshop will share insights into the development of creative and thinking skills in school students facilitated by Dr. Mark Barkan and Mr. Anatoly Guin, from the Education for a New Era initiative.
The host city, Penang, not only has a rich historical background with a large number of UNESCO World Heritage sites, but is also renowned for the delicious cuisine and its friendly people. This event has become the most important annual gathering for TRIZ communities in the South East Asia regions. To register, please sign on to www.seeuthere.com/TRIZ2012 .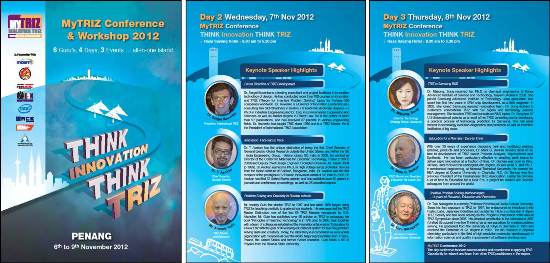 The inaugural MyTRIZ Competition 2012 attracted 27 teams from 18 universities across Malaysia. This year's competition submission is now closed. 8 teams will be selected for the finals on 6th November 2012 at Universiti Sains Malaysia. We thank the participants for their interest and hope that they have enjoyed the preparation. We would like to acknowledge Intel Foundation, Intel Corporation and Multimedia Development Corporation for the sponsorship and support.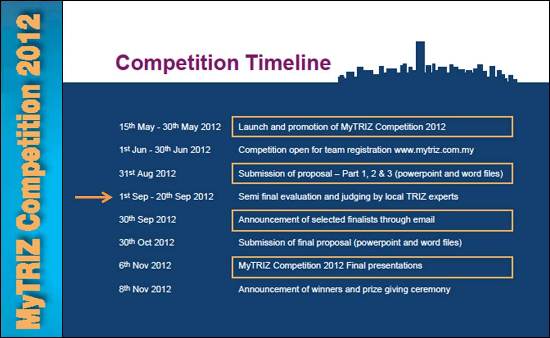 For those who have missed out on the inaugural MyTRIZ Competition, there is another competition with awesome prizes that you can participate in. MyInovasi 2012 is a competition organized by Ministry of Higher Education. The aim is to promote creativity and innovation culture for the benefits of society. It is open to all students from the institutions of higher learning in Malaysia. We encourage the students to participate and hope that their TRIZ knowledge would be an advantage to win some fantastic prizes.

The spreading of TRIZ knowledge is accelerating. Through the MyTRIZ@U program, 12 TRIZ Level 1 and 2 TRIZ Level 2 workshops were conducted over the last 4 months. We would like to thank Kolej Damansara Utama, Universiti Teknologi Mara, Universiti Pendidikan Sultan Idris, Universiti Teknologi Petronas, Universiti Utara Malaysia, Sentral College, Asia Pacific University, Universiti Malaysia Pahang, Tunku Abdul Rahman College and Universiti Tun Hussein Onn Malaysia for hosting the workshops. 312 academicians and 293 undergraduates were added to the TRIZ community.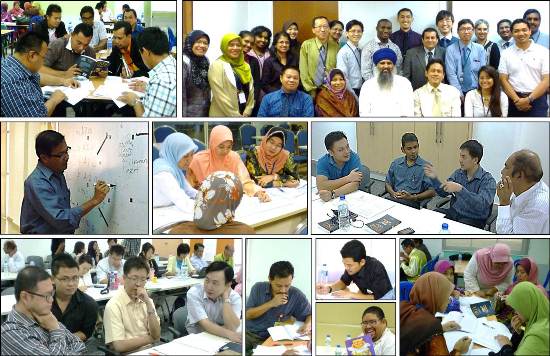 Never stop a rolling stone, with the momentum building, Performance Management & Delivery Unit (PEMANDU) has agreed to include TRIZ in the MyProCert program. MyProCert program is a catalytic program aimed at accelerating the up skilling of Malaysian professionals in the efforts to support the national economic transformation into a knowledge driven, high value economy. Pemandu will reimburse RM 500 per person to encourage the learning of TRIZ. For details, contact Eng Hoo at enghootan@yahoo.com or Issac Lim at issaclss@gmail.com.
PEMANDU is a unit under the Prime Minister's Department. Its main role is to oversee the implementation, assess the progress, facilitate and drive the progress of the Government Transformation Programme (GTP) and the Economic Transformation Programme (ETP). PEMANDU has been mandated to catalyze bold changes in public and private sector.
In closing, I would like to take this opportunity to wish all Malaysians, Happy Merdeka and Malaysia Day! We look forward to seeing you at the MyTRIZ conference.
Dr. TS Yeoh
MyTRIZ President