MyTRIZ Competition 2016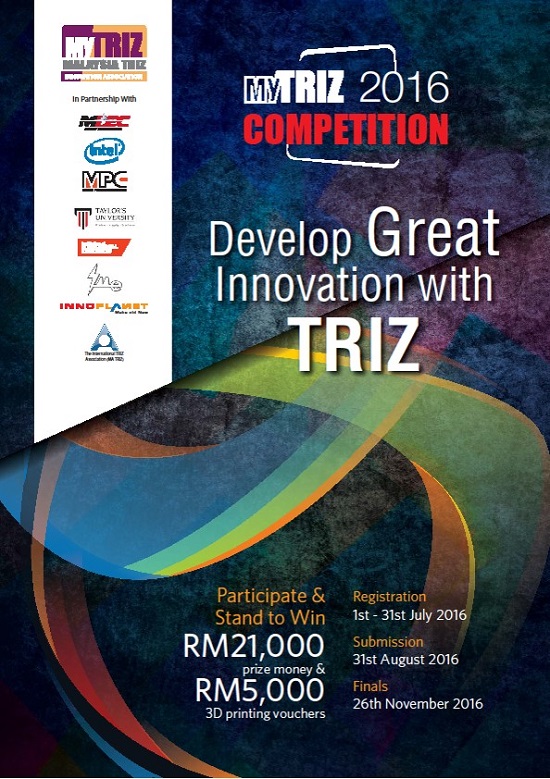 Malaysia TRIZ Innovation Association is very pleased to announce the MyTRIZ Competition 2016.
The competition objective is to encourage the application of TRIZ systematic innovation methodology, cultivate the spirit of innovation and generate awareness of TRIZ systematic innovation around the Asia region.
The competition is launched with the theme of Develop Great Innovation with TRIZ. It is open to all TRIZ practitioners within the Asia region.
Participation in the competition is free! To obtain more information about the competition, click to register and download the MyTRIZ Competition 2016 Information Kit.
Prizes
A total sum of RM 21,000 prize money and RM 5,000 3D printing vouchers to be won!
Grand prize : RM 8,000 prize money, RM 500 3D printing voucher + 3 MyTRIZ Workshop tickets
1st Runner Up prize: RM 5,000 prize money, RM 500 3D printing voucher + 3 MyTRIZ Workshop tickets
2nd Runner Up prize: RM 3,000 prize money, RM 500 3D printing voucher + 3 MyTRIZ Workshop tickets
Merit prize (5 teams): RM 1,000 prize money, RM 500 3D printing voucher + 3 MyTRIZ Workshop tickets